Reasons to Cultivate Gratitude: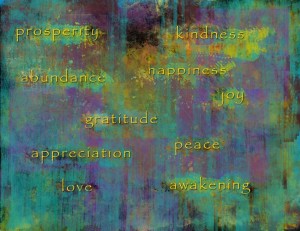 Gratitude reminds you of the positive things in your life. It makes you grateful about the people in your life, whether they're loved ones or just a stranger you met. These gratitude resources, when applied will make you feel so much happier! The attitude of gratitude.
Gratitude reminds you to thank others. Calling them, emailing them, stopping by to say thank you or just taking time out of your life to tell them why you are grateful toward them is important. Everyone likes being appreciated for who they are and what they do. It costs only words, but makes someone else happy. And making someone else happy will make you happy.
Gratitude reminds you of what's important. It's hard to complain about the little things when you give thanks that your loved ones are alive and healthy.
Gratitude turns difficult things into good things. If you have problems at work? Be grateful for the work you have. Be grateful for the challenges, and that life isn't boring. Be grateful that you can learn from these challenges. Be grateful for they will make you a stronger person.
Gratitude Practice
Every morning before you get out of bed to start your day, and every evening before you drift off to sleep, think about all the things you have to be grateful for and thank each and every person, place, thing and experience that comes to mind past, present and future. Feel the sincere feelings of gratitude for all that you have all that you experience and all that is.
Be grateful and give thanks for the bed you have slept in, (or are in right now) for the room you are in, the things you have in your life. Think of the things in your life that fill your life with elegance, grace and beauty. Thank your furniture, your appliance and the technology you use every day. Think of the people who have touched your life and send the feelings of gratitude to all of them. Think of the animals that have been a part of your life and give them thanks for their unconditional love. Think of all the beauty in the world and send yourself some gratitude for being able to witness all the joys and all the beauty that exists all around you.
As you do you daily gratitude you are planting the seeds for more things to be grateful for in your life and consequently you are attracting more joy, abundance & good health into your life. Cultivate gratitude all throughout your day. Make gratitude your way of life. Cultivating gratitude is the most important practice you can do in your life. Practicing gratitude on a daily basis will change your life.
Gratitude Quotes
"Do not be anxious over anything, but in everything by prayer and supplication along with thanksgiving, let your petitions be made known to God; and the peace of God that surpasses all understanding will guard your hearts and your mental powers by means of Christ Jesus."—Philippians 4:6, 7 ~ Bible 
"Whatever we think about and thank about we bring about." ~Dr. Joe Demartini
"At times, our own light goes out and is rekindled by a spark from another person. Each of us has cause to think with deep gratitude of those who have lighted the flame within us." ~Albert Schweitzer
"To educate yourself for the feeling of gratitude means to take nothing for granted, but to always seek out and value the kind that will stand behind the action. Nothing that is done for you is a matter of course. Everything originates in a will for the good, which is directed at you. Train yourself never to put off the word or action for the expression of gratitude." ~Albert Schweitzer
"Saying thank you is more than good manners. It is good spirituality." ~Alfred Painter
"Gratefulness is the key to a happy life that we hold in our hands, because if we are not grateful, then no matter how much we have we will not be happy — because we will always want to have something else or something more." ~Brother David Steindl-Rast
"Let us rise up and be thankful, for if we didn't learn a lot today, at least we learned a little, and if we didn't learn a little, at least we didn't get sick, and if we got sick, at least we didn't die; so, let us all be thankful." ~Buddha
"Gratitude is not only the greatest of virtues, but the parent of all the others." ~Cicero
"Happiness cannot be traveled to, owned, earned, worn or consumed. Happiness is the spiritual experience of living every minute with love, grace and gratitude." ~Denis Waitley
"Revenge is profitable, gratitude is expensive." ~Edward Gibbon
"The hardest arithmetic to master is that which enables us to count our blessings." ~Eric Hoffer
"Gratitude is merely the secret hope of further favors." ~Francois de La Rochefoucauld
"Gratitude is the fairest blossom which springs from the soul." ~Henry Ward Beecher
"As we express our gratitude, we must never forget that the highest appreciation is not to utter words, but to live by them." ~John F. Kennedy
"Let us be grateful to people who make us happy; they are the charming gardeners who make our souls blossom." ~Marcel Proust
"Appreciation can make a day, even change a life. Your willingness to put it into words is all that is necessary." ~Margaret Cousins
"If the only prayer you said in your whole life was, "thank you," that would suffice." ~Meister Eckhart
"Gratitude unlocks the fullness of life. It turns what we have into enough, and more. It turns denial into acceptance, chaos into order, confusion into clarity…. It turns problems into gifts, failures into success, the unexpected into perfect timing, and mistakes into important events. Gratitude makes sense of our past, brings peace for today and creates a vision for tomorrow." ~Melody Beattie
"I awoke this morning with devout thanksgiving for my friends, the old and the new." ~Ralph Waldo Emerson
"The deepest craving of human nature is the need to be appreciated."? ~William James
"Gratitude is our most direct line to God and the angels. If we take the time, no matter how crazy and troubled we feel, we can find something to be thankful for. The more we seek gratitude, the more reason the angels will give us for gratitude and joy to exist in our lives." ~Terry Lynn Taylor
"Feeling grateful or appreciative of someone or something in your life actually attracts more of the things that you appreciate and value into your life." ~Christiane Northrup
"In ordinary life we hardly realize that we receive a great deal more than we give, and that it is only with gratitude that life becomes rich." ~Dietrich Bonhoeffer